I was never more gifted than when I met Raiti a princess of the royal family of Ubud, Bali. Since communism had destroyed the structure of the royalty system, the heirs were doing their best without tax revenue to maintain the beautiful palaces that had been built by their ancestors. This misfortune afforded me the opportunity to have Princess Raiti as my tour guide and my hostess at the Royal Palace. She also invited me into her own magnificent home as well.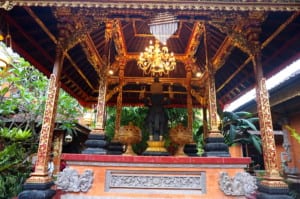 Dinner at the Royal Palace
One day as we sat together on the small tour bus, I felt the energy of a young man come near her. I then saw the face of a teenage boy, so I asked her if she had a son. Her normal smile flatlined and she told me that her son had committed suicide. I knew then that it was him, who was in the spirit world, next to me. I passed along some personal messages from him to her and she was over the top surprised with the spontaneous conversation they had through me. She then exclaimed, You are a Balian !" I was surprised and asked what was a Balian ? She explained that they are the healers and seers in Bali. I then discovered that there are more Balians than doctors in Bali and that they treat a long list of mental and physical illnesses. Their processes comes from the mystical world and they are revered in society.  I talk more about this in my book.
The Balinese are very seeped in the Hindu traditions. Raiti was excited to teach me about all of the Hindu Gods as we traveled through Bali. She explained that there are many sacred waters throughout the country that the most experienced Balians used for healing. This meant that every temple we went to I would be taking with me the waters for blessing.
As we traveled through the countryside she would guide me away from the rest of the group to remote little corners with locked gates that she had the keys to, where I would fill up my water bottles. When we went to one of Bali's most important temples, she would talk to the priests and tell them that I was a Balian. At one of the most important temples the Pura Tanah Lot, I was immediately waved into the inner rooms where there are no tourists allowed. As I entered I could feel that the room had an importance unto itself and I placed the water on the altar as she instructed to be immersed in this ancient energy.
The Balinese have identified areas that are highly regarded for their spiritual powers and the collection of holy water for temple ceremonies is essential to traditional healing. The Balineses Hinduism in its purest form is called the religion of holy water. Most of the palaces are surrounded by mirrors of water.
With my extensive collection of healing waters in my purse, my trip was nearing to the end. This was the day before she had invited our group to her house for dinner. She again was a enthused to sit next to me on the bus and this time asked me what I saw about her life. Immediately what came to me was an enormous white Ganesha elephant !!! She shrieked with excitement so I knew I had stumbled on something important. I passed along the messages from the spirit world and she said, just wait until tomorrow, you will know about the white elephant !!  More stories of experiences like this in my course – The Tree of Life Course.
The next evening we drove quite a distance to her home for a dinner and dance and the tour bus pulled into the driveway. I walked toward the front entrance and this is what I saw: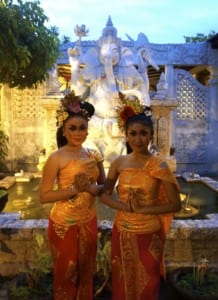 A beautiful white marble Ganesha !! As I entered the house she came running up to me, "Lori, did you see it? did you see it?" " Yes "I said, surprised to see that I was seeing the same Ganesha I had seen in my vision. She hugged me and said thank you and I said "for what? " she said, "I have been asking Ganesha to bring me my son so that I know he is okay and my son came through you.
That has been my greatest gift so far from the Ganesha !
With love from Ganesha and the other side,
Lori
Loved ones are never lost to us, only a breath away. If you would like to know more about the connection with the spirit world click here.
Participate in the Tree of Life Course
Get the Tree of Life Harmony CD