Lori is especially blessed with the ability to help one discover their true priorities in life and career and lay out the steps to get to a balance of mind, body and spirit. Her positive outlook, emotional generosity and contagious sense of humor adds a special component to her style making it a fun and enlightening experience in learning to live a spiritual life. Combining her skills as a coach, spiritual counselor, creative, healer and intuitive along with her extensive knowledge of Reiki, Meditation, Grief, Shamanic Healing, Energy balancing and intuitive medicine she inspires those she works with towards personal shifts in consciousness. In addition to her spiritual Lori was a member of the board of directors of the Mental Health Coalition of Verde Valley and headed up the Education Committee.
Lori was a natural entrepreneur after successful careers in International Banking and Finance in New York and Houston and International marketing for Robert Mondavi Winery in Napa Valley. Three days after her 27th birthday she became a widow after her first husband committed suicide and had to deal with grief at a very young age. Lori later married Tino, a Salvadoran  and they moved to El Salvador to start a new life there. While in El Salvador Lori built a very successful wine and gourmet food business that extended to all of Central America as well as many other entrepreneurial adventures in resort development and social and environmental work.
When Tino's complications with diabetes required full time care, Lori sold her businesses and dedicated five years as a full time caregiver until his transition in 2009. Lori remained in El Salvador living in a very isolated area in the middle of a volcanic lake where the night before her 51st birthday a remarkable spiritual event occurred when a beam of light entered her and she was unconsciously gone from her body for over three hours. After this event she realized the gifts of clairaudience, clairvoyance and clairsentience and miraculously acquired shamanic healing methods which gave her the ability to hear spirits from multi dimensions and to see and feel things outside of the normal range of normal perception. After realizing that from early childhood she had these gifts she started a journey of spiritual discovery that was the beginning of a new and most unique relationship with the "other side". During the preparation for the shift of energies during 2012 she began to merge with and channel information from Mayan spirits around the lake where she lived who initiated her in the methods of ancient mayan healing methods and practices. She developed the ability of direct communication with spiritual guides and teachers who are now her guidance team. For support and mentoring Lori was blessed to have the opportunity to work with Deborah Harrigan, a world class psychic medium and intuitive who was her mentor into the vast and at the time, unknown world of spirituality. Deborah was instrumental in teaching the ins and out and the ups and downs of "living with spirit".  Lori was also mentored by a gifted contemporary shaman Marilyn Hayes who inherited from her Haitian grandmother profound and old teachings of shamanic journeying and spirit communication.
Lori spent four years studying spirituality with many of the world's top spiritual teachers such as Neale Donald Walsh, Denise Linn, Sarah Mclean, Doreen Virtue, Gary Zukav, Panache Desai, Drunvalo Melchizadek, Wayne Dyer, Gregg Braden, Carolyn Myss, Sandra Ingermann  and many others.
Lori's love of travel and adventure took a spiritual spin as she took off to understand the ancient places and to work with healers and shamans to better understand the gift she had been given. She was afforded the opportunity to be alone in the Sistene Chapel, she walked the steps of Ephesus and meditated at the home of the Virgin Mary in Turkey. She spent time in Asissi, Italy retracing the  life of St. Francis and was fascinated by the journey of Saint Catherine in Siena. She journeyed with Gregg Braden to Peru to meet local shamans and has studied Incan shamanism with the Four Winds society founded by Alberto Villaloto. She completed an intensive course in core shamanism with Michael Harner's Foundation to learn how indigenous shamans heal others and their relationship to the soul and its inevitable transition.  She continued to immerse herself in the study of death and dying, stages of enlightenment and the understanding of the human body and its ability to heal itself. Her last trip was to Bali, Indonesia where she shared her special skills with local Balinese  healers and learned how they use their gifts to heal others .
Since Lori is no stranger to the debilitating challenges of the grief process she has a personal perspective that is comforting and assuring to others that our loved ones are always with us. Her unique approach to healing trauma came from her own experience when she was diagnosed with severe PTSD after a bomb went off when she was getting into her car and she was extorsioned and threatened by gangs while living in El Salvador. She healed herself through Aryuvedic medicine and alternative healing methods as she refused to take medications recommended by psychiatrists. Instead she designed a deep and profound personal spiritual practice that moved her into a state of calm and peace. Lori has now moved back to the United States and chose the mystical red rocks of Sedona, Arizona as the perfect place to begin this new stage of her life. Sedona will be the base  for her spiritual practice where she offers one on one retreats and teaches others how to overcome challenges with a modern shamanistic approach to alleviate suffering.
Award-Winning Author

LORI, The Disintegration Of My Ordinary Reality is a narrative non-fiction memoir that describes my spiritual awakening after the death of my husband, my struggles with others' perceptions of my sanity, and my ongoing work to embrace my role as someone with one foot in everyday reality and the other in the spirit world. Through my experiences, I am seeking to foster a broader understanding of what western medicine has come to label "crazy" and to generate a greater sense of our place in a multi-dimensional world.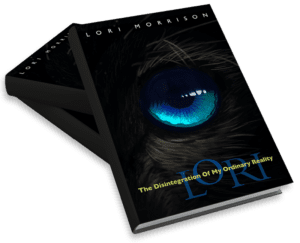 At the heart of my story are a series of events that unfold at my home on a remote peninsula inside a volcanic lake in El Salvador, where, after my husband Tino's death, I experience a barrage of psychic phenomenon including "coincidental" rainbows, indigenous drumming, snakes, and spontaneous rain clouds. These events crescendo to a night when, after a lightning storm, I am hit by a light beam. After three hours lying alone in a non-conscious state, I awaken to find that my perceptions of the three-dimensional world I lived in are no longer my reality. In a subsequent experience, another light enters me and sends me into what would become the first of numerous out-of-body experiences that would eventually drive me to the edge of insanity.
With the sudden dissolution of the veil between the human and spiritual world, I am able to see, hear, and feel spirits from multiple dimensions. Oddly, I also receive knowledge of ancient shamanic practices and of what I believe to be the Mayan language. Doing my best to live an ordinary life after an extraordinary experience, I face extreme challenges as I am dramatically affected by electronics, vibrations, and a chorus of Mayan ancestral voices that begin to communicate with me. Having been a left-brained entrepreneur most of my life, I have no template for understanding these experiences. In line with the well-documented prophecies of the Mayans, the voices speak of a new age when there will be a return to the heart and a kinder, gentler society will emerge. They go on to share that many are hearing the call to this shift and emerging to spread the wisdom of this cycle and that somehow I am a part of this awaited time. Dumbfounded by the information, I realize that in order to fulfill my role in this cosmic connection I must take the first steps on a six-year spiritual journey.